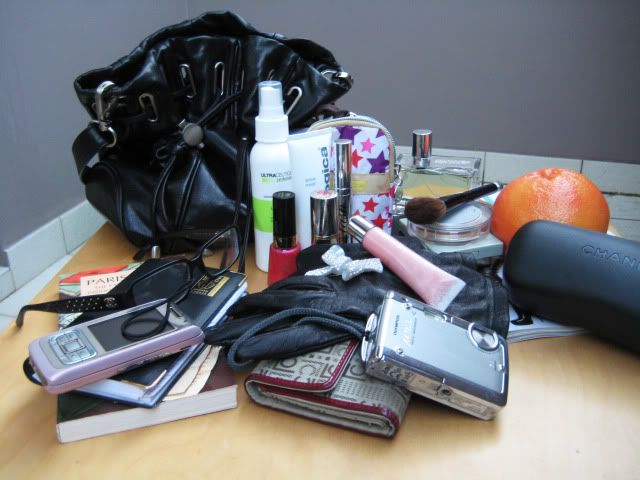 I was reading this month's RUSSH magazine and loved the piece on "What's inside people's bags" so much so that it gave me an idea to do my own. I've always been curious of what people carry around, little trinkets they treasure, books being red, lipsticks being used...anything really. Since starting this blog, I've received a few emails about what products i use everyday. So i guess this is my way of answering them.
My bag changes all the time, I base it pretty much on the look I'm trying to achieve or pure laziness.( the latter holds true most days). I'm terrible at organization and I'm even worse at loosing things. When I'm in a mad rush and trying to look for something in my bag, i feel as if i dived into the abyss....i simply get lost in it...So here it is...
Book:
I bought this book at St Vinnies from a recent trip to Melbourne, it's a Paris shopping guide book. I like to keep in my bag to read in the bus to work and daydream of Parisian style.
Daily Planner:
Like i said, I'm terrible at organization.
Phone:
I don't know anybody without a phone, I'm trying not to loose myself to the Iphone.
Glasses:
I've had these chanel specs for the past 3 years now and i still love them, pity i spilt acetone on them by accident. I'm blind without them.
Wallet:
This Anne Klein wallet was given to me by my mother, it's really not my thing but i love it because it looks weird...ha!
Leather Gloves:
For those nippy days
Camera:
I carry my camera around with me nearly all the time, you never know when there can be inspiration to snap at.....or a funny moment.
Bow Hair clip:
When your hair needs a pick me up Mimco makes some really cute hair clips to jazz up any bad hair day.
Sunnies:
Chanel, is it obvious i'm in love?
Products
: Utraceuticals face spritzer to keep your face dewy and moist, Dermalogica moisturiser, Benefit mascara, Revlon pink nail polish, Lancome Juicy tubes, Ultraceuticals press powder in sand, Origins blush ( natural glow).
Moleskin Journal:
Every girl needs a black book for all her little secrets:)
Magazines:
I always have a magazine in my bag to read, loving this month's Vogue.
Perfume: Prada, mum gave me a Prada set for my birthday...every year she gives me a new scent to try otherwise i use my custom made scent( made by my best girl Leah) encased in a sleek gold tube...chic!
Coin Purse
: I carry my coins, receipts and cars in this cute le sportsac purse.
Fruit:
I always carry fruit or nuts, for those times I feel low on fuel. Lately i've been eating alot of ruby grapefruit and i mean alot (ok everyday) it's so deliciously juicy!